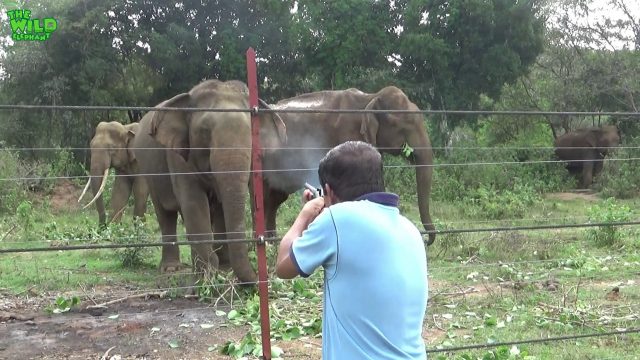 Elephants are found in every corner of the island nation of Sri Lanka. These elephants are mostly known to be humble, but no human should approach a wild elephant for whatever the reason it is. This is a life-threatening thing any person could ever think of, and anyone that values their life should not approach an elephant.
Over the past, so many families have filmed their drunken loved ones approaching elephants to feed them, and they have been attacked with life-changing and ending injuries. All these are recorded in videos taken by their family members themselves. To add more spiciness to this situation, there are super aggressive rogue elephants among these herds who would chase you across the town and forest until you have no place to run.
In this video, this highly secured area is holding some of those highly known rogue elephants who have previously made big issues in several parts of the country. The wildlife officers are here to do some medical check-ups and routine treatments and vaccine shots for their good health. Watch this footage and understand how even the most aggressive elephants live when they are kept ina place that forces discipline to them. Sure they miss that freedom they had to roam across the island freely.
Read more about the elephants in Sri Lanka.
In the beautiful island of Sri Lanka, Elephants roam the streets and through village areas freely in many regions of the country. The small island nation is full of elephants that are loved by most of the inhabitants of the island. Most educated in the country are continually fighting corruption, and animal abuse, especially towards the treasures that elephants are to the state as Sri Lankan elephants are known as the largest and the strongest among Asian elephants.
They tried to drag this elephant out of the muddy pit using their own strength, and they couldn't go far. That is when they contacted a villager with a tractor to lend them some help to get this elephant out of this challenging situation.
However, around farming villages where elephants raid crops, many conflicts are happening that have caused casualties to both sides. They have set a lot of fences and electric fences with barriers around many villages and farmlands around national parks and many massive forest reserves. These elephants often run into traps and wells placed along with farms for water supply.