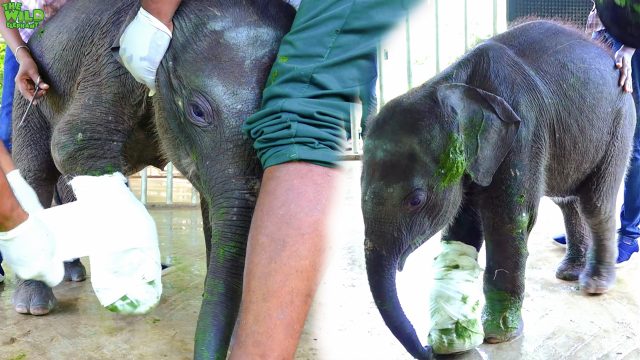 Ayurvedic treatment for cute baby elephant
---
Sri Lanka and Elephants
In the beautiful island of Sri Lanka, Elephants roam the streets and through village areas freely in many regions of the country. The small island nation is full of elephants that are loved by most of the inhabitants of the island. Most educated in the country are continually fighting corruption and animal abuse especially towards the treasures that elephants are to the state as Sri Lankan elephants are known as the largest and the strongest among Asian elephants.
However, around farming villages where elephants raid crops, many conflicts are happening that have caused casualties to both sides. They have set a lot of fences and electric fences with barriers around many villages and farmlands around national parks and many massive forest reserves.
Situation:
This baby elephant was seen injured by the concerned villagers around their borders. Villagers immediately contacted wildlife officers to respond to this situation to help this poor baby elephant in pain. These wildlife officers decided to take this elephant back to their camp where it will be able to spend time in a safe environment until its wounds are healed.
It was a beautiful day to bath this baby elephant and clean the small one thoroughly before giving treatments and covering the wound. This will help the baby to recover as fast as possible.
The playful baby elephant doesn't stay still for these officers to attend and clean its wounds as they give it a gentle shower. They were finally managed to finish its bath and moved to apply medicinal paste over its wounds.
Watch the rest of the complete footage and see how these kind officers managed to handle this baby elephant with love, so it will not feel the pain anymore.
We humbly invite you to join us with a journey full of love and help to our treasured wild elephants in the paradise island of Sri Lanka.
Watch the full video here