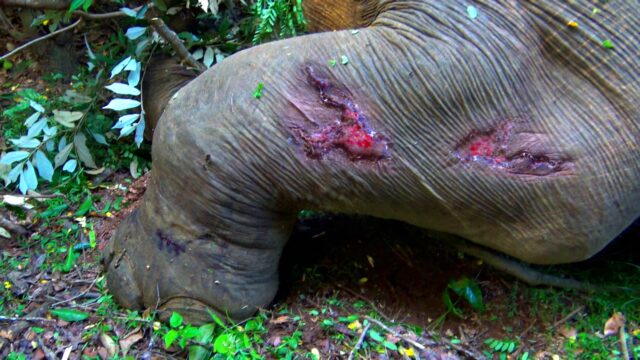 Hey folks! Welcome to another episode of The Wild Elephant. In this episode, you'll see the Wildlife Department of Sri Lanka's dedication towards elephants. So without wasting a single moment, let's get started.
The wildlife officers were reported about the incident in which a giant elephant was suffering from a critical wound in its leg targeted by the trappers. The officers arrived at the location to address the situation. As soon as they arrived, they started the preliminary steps and prepared the injections and other tools, including anaesthesia, to treat the elephant.
Once all the preparations were done, the officers moved into the woods, where the elephant awaited help. A couple of wildlife officers approached the elephant and started giving it anaesthesia to relieve it from the intense pain it was suffering from. The elephant remained still as it could not get up due to its critical wound in the leg.
After giving anaesthesia, the officers began to treat the wound. Apart from the main injury, other minor wounds also resulted while the trappers targeted the mighty animal. As the team headed to the major wound, the first thing they did was clean the dirt and grime from it. They washed and cleaned the wound using a salt solution and cotton.
 The officers sprayed the   on other minor wounds since they can also cause discomfort. Once all the wounds were done, the wildlife officers gave it an anti-anaesthetic injection and backed off. After a while, the elephant started to move. This brought a sigh of relief to the officers, and they left the location satisfied that the elephant would heal soon.