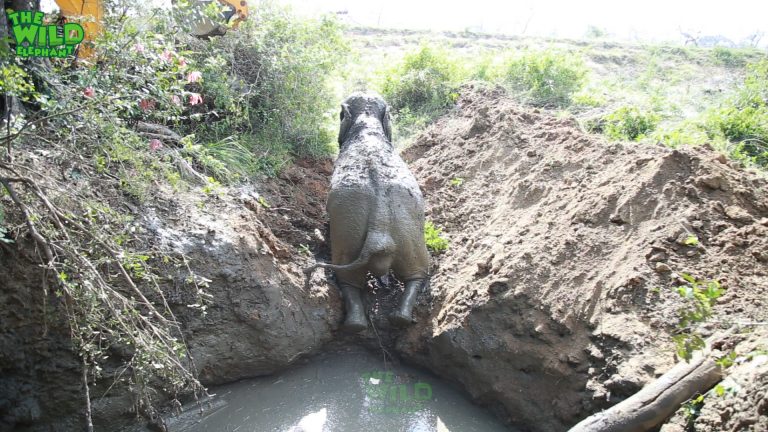 Wildlife team rescues an elephant from dying in a mud pit
---
Locals found a young elephant fallen into a pit beside a farmland. It tried to climb up on its own but failed. Locals informed the wildlife rescue team because they couldn't handle the situation alone as the elephant behaviors are unpredictable and could lead to a loss of life.
Wildlife team rescues an elephant
Wildlife rescue team along with the locals put some decent size of tree branches, trunks and rocks into the pit to help the climbing process of the elephant. But it kept pushing the branches aside and turning around the pit trying to come out of it without the help of those branches.
Wildlife team rescues an elephant from dying in a mud pit
Rescue team decided to dig a gutter and widen the way out to make it easier to climb up. The young elephant tried as much as possible to find a way out through the gutter but it could not and retired back to the pit.
They decided to widen the path furthermore and dig deeper using a caterpillar. The gutter that was previously made was excavated and widened with deeper cuts.
Then the trapped giant tried climbing the expanded gutter and yes, it made it out this time! Locals around tried to make noises to make the elephant scared and run towards its natural habitat. The wildlife team chased it back into the woods by throwing nonlethal firecrackers without harming the rescued giant.
It's really nice to see people attempting to save animals, giving purpose to the forest and saving the wildlife. Humanity has not lost its purpose, and I hope more of this will be done to save the world of elephant and other animals in general.
Watch the full video here
Watch another rescuing video of an injured elephant in the mud
Find more related articles here