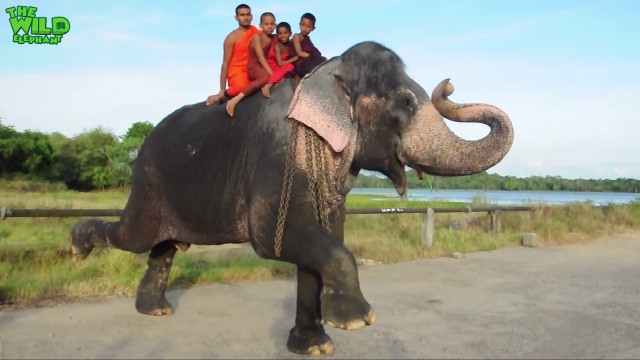 Monks And Huge Elephant Having Nice Time Bathing In A River
---
This video is about monks washing a huge elephant in a water canal, this is a very rare sight in the world. Well, here monks both men and little boys come together to thoroughly and properly wash a huge elephant in a canal.
Elephant Having Nice Time Bathing In A River
Are they not scared? No! The elephant is equally friendly as they are. The little boy mounts on the back of the elephant to scrub and wash. One of the big monks can also be seen brushing – washing the tongue of the elephant.
Do you think it requires a special skill to achieve this? Well, I think it has to do with the heart. More and more people find it hard not to gather around these monks to see how they wash off the elephant.
Monks and the little ones washed this elephant thoroughly so they can have a nice evening with him by riding the elephant around
People follow them as they are moving on the road and the elephant seems very happy, too.
The monks put a banana tree in the mouth of the elephant to carry and the huge elephant starts running. I can only commend the efforts of these monks on this elephant.
This act can save wildlife from the perspective which people see it, that they also need special attention – such as bathing them. Thanks to these monks we can see how elephants can live among humans without any conflict.
Watch the full video here
Watch the full video on YouTube: Click here