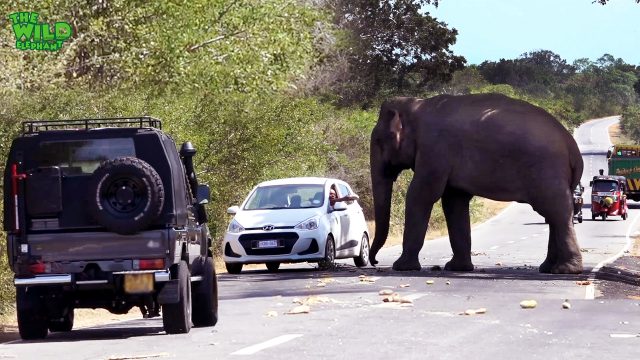 The most fed elephant in the world
---
On our way to Kataragama temple, we decided to rest a little near a trendy place along the road where elephants move into receive food from the pilgrims.  A lot of people travel here to offer prayers and other ways of offerings to the "Kataragama Deviyo."
According to our last video, many people wanted to know more about these elephants along the road, yes they are all conserved and kept safe by wildlife officers that regularly move into these scenes to chase them back to the forest. There are quite a few elephants that are used to this, and they come back for more food given by the friendly people even when it is illegal to feed, as it is a dangerous thing. A lot of travelers often receive a ticket for engaging in this dangerous act.
Toll booth elephant is back again, eating everything it gets, the place smells like a fruit salad sometimes, so these elephants know how to come back even after a day.  Watch this video closely on how peaceful and calm they are when offered with food, so they expect nothing more than some food and a full lane to stay and eat.  Enjoy the rest of the footage and let us know your thoughts.
If you ever visit the beautiful island of Sri Lanka, make sure to visit the Kataragama temple to gain blessings from the Kataragama Deviyo. You can also find more elephants in some locations mentioned below.
Watch the full video here
Watch the part two of the above video