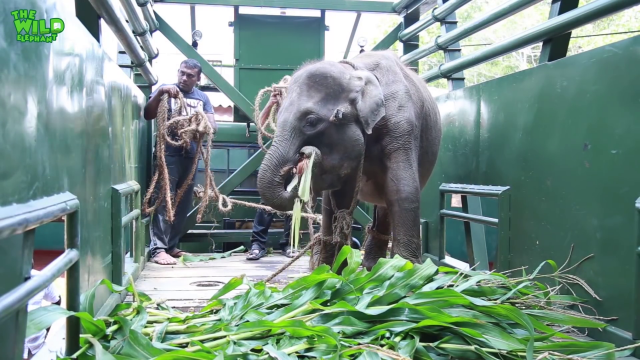 The Elephant That Won't Get In: A Story of A Patient Wildlife Team
---
This baby elephant is bored inside the cage. This baby elephant will be taken to a new home. It doesn't seem like it wants to leave the cage so it's mostly looking bored. It's like the elephant is uncomfortable. The men pointed a long rod at it for a while, but the elephant kept moving around the cage. They wanted to tie its legs so they were looking for the perfect moment to do that.
One officer gave a watermelon fruit to this elephant to calm it down and then distract it a little bit. The elephant still doesn't want to leave. As a defensive measure, the elephant lays his head on the ground just so the men would have a difficult time trying to pull him. After a while, it succumbs just a little bit and the men were able to tie its legs.
These officers ensured that the elephant's legs were properly tied, they put a wedge by the edge of the truck. This is to make it easier for the elephant to climb into the truck. But it became more difficult than they imagined. The elephant refused to get into the truck! Instead, it tried all it could to get back into the cage.
'There were about ten men present there, but the elephant still found its way to get out of the truck even after it entered it. The men now teamed up and used all their energy to get the elephant into the truck. This actually took a while but fortunately, they were able to do it. The team eventually put the elephant into the transport vehicle and gave it lots of food and water to make it with ease.
The Elephant That Won't Get In
Watch the full video here
Watch the full video on YouTube: Click here