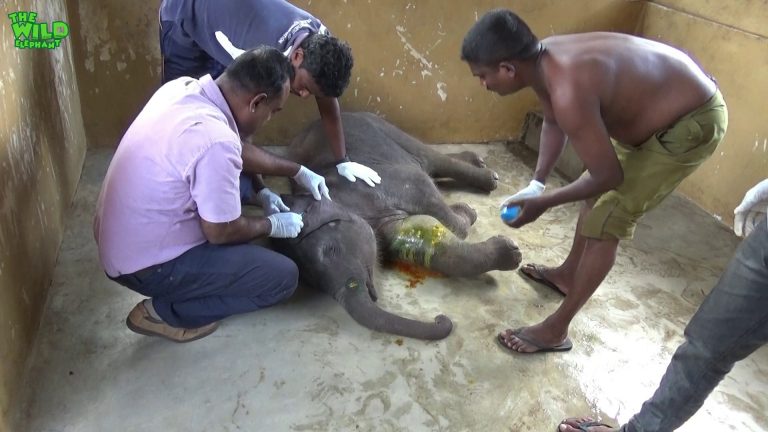 Elephants roam the streets and through village areas freely in many regions of the small paradise island of Sri Lanka. The small island nation is full of elephants that are loved by most of the inhabitants of the island. Most educated in the country are continually fighting corruption, and animal abuse, especially towards the treasures that elephants are to the state as Sri Lankan elephants are known as the largest and the strongest among Asian elephants. There are several thousands of these wild elephants that require medical attention and help to recover from natural diseases and injuries that happen to them as they navigate through difficult terrains and jungles.
This baby elephant was found with severe leg wounds and being injected around the wilderness in Anuradhapura. This baby elephant was with the herd at the time, and the wildlife department of Sri Lanka had to take this elephant away to one of their facilities where they hold animals that need daily treatments to recover from such injuries and sicknesses.
This baby elephant was scared and wasn't familiar with the officers, and it was a bit aggressive when officers tried to approach it. There have been many cases where other baby elephants become so friendly within a little time and to be playful after being fed with milk and all the food. This baby elephant was given with milk and food before and is still feeling uncomfortable due to its juries in the leg.
The footage is really a one with graphic warnings. This footage shows the brutal medical procedures that need to be carried to treat such injections and conditions. This baby elephant will be kept under their watch for a long time and will be later taken back to the original herd soon after the treatments.