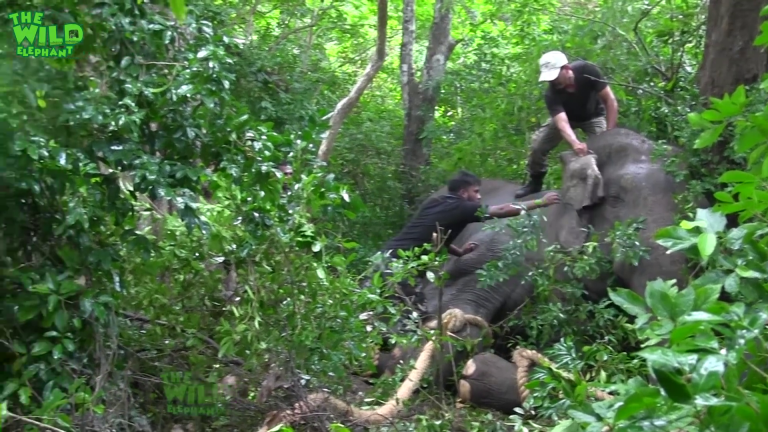 Huge elephant loses life as rescue team tried all they could
---
Wildlife rescue team found an elephant lying on the ground middle of nowhere in the forest. The fallen giant was very sick and hardly breathing. But the rescue team didn't want to give up and trying their best to awake the giant and make it back up on feet.
Huge elephant loses life as rescue team tried all they could
The team cleared the area by cutting some branches and small trees around the elephant. Then they tied strong ropes around the legs of elephant and try to lift the elephant up. The ropes were put between the legs of the elephant and started pulling the ropes with the belief to raise or wake the elephant.
More hands joined to pull the ropes but the elephant is too huge to be pulled without the help of the elephant. The rescue team kept on trying to see if they could pull it up. They made some noises, slap the elephant so and forth to awake the fallen giant. But no positive response came from the elephant.
Its eyes were half opened and half closed, almost like the giant seemed almost dead. The team decided to inject the elephant with some medicine. Even after injecting it, the fallen giant didn't respond. It was not blinking or makes any kind of movement.
Huge elephant loses the life
That was their last hope and it went in vain. Vets confirmed the elephant is dead. Then they started to lose the ropes tied around the elephant. That was the last moment of a giant.
A lot of people came out to revive the elephant. It's really a good thing that there are still people like this trying to save the world the world of the animal.
Watch the full video here
Click here to watch more elephant rescue missions
Watch the full video on YouTube: Click here