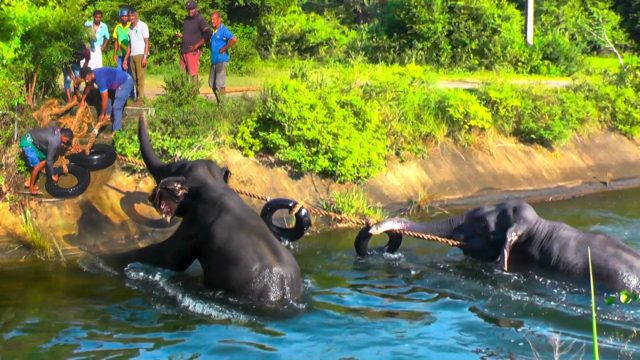 Most Sri Lankan elephants roam freely in the jungles and often invade human populations in search of food and water. One such elephant is stuck in this canal and cannot get out of it. After trying a few times and realizing it has been stuck, the elephant gets a bit aggressive and tries to find a way out. Elephants are intelligent animals and can be taught and trained. This is quite obvious here when this elephant tries to climb up with these iron steps. But it failed…
When the villagers saw this elephant struggling, they reported wildlife department of Sri Lanka the situation going on and the wildlife team arrived soon. They made a way for the elephant to get out of the canal by tying up a few tires into a rope in which the elephant could fit its feet and grab to climb up. The elephant even tried to do so but all in vain. After trying this method a few times, the elephant left it and went to find another way out. It tried to climb up from several points.
Eventually, the elephant got back to the same point where the tires were tied for it to grip and climb up. It started trying again but got slipped every time. The wildlife team set up the same tires and ropeway to other points as well so that the elephant could try them at another point. While the elephant was trying to find a way, the wildlife team along with the local villagers guided it through various methods including touching a stick and setting up a rope barrier in its way.
Although it kept roaming for a long time near the bridge where the wildlife officers and villagers were standing the elephant climbed to the other side of the bridge. And here was a way to its natural habitat. The wildlife officers and the locals guided it to the path by shooting and it eventually got out of the canal. The officers still followed it until it got lost in the greens.