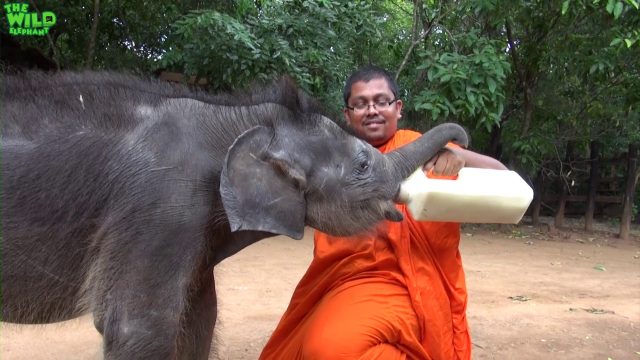 You must have heard of stories about the elephant island of Sri Lanka and how hard it is for the wildlife officers to control several thousands of free-roaming elephants that regularly breakthrough barriers so they can enter civilian areas. Despite given with safe zones, national parks and orphanages, these humble giants and herds are always seeking new land and new water sources for their amusement.
This baby elephant was lost and was separated from the original herd, and it is quite a difficult task to find the original herd that they belong to. It was found wandering near a village farm ground by the farmers. Wildlife officers were notified about the elephant, and they quickly deployed a team to secure this young one from the Polonnaruwa rural area.
Officers brought this baby elephant to their quarters where they hold sick and young ones like these that get separated from their parents. They can't easily join a new elephant herd, so they keep them in the quarters to confirm about the herd they might belong to. It is not an easy task to document around 4000 Elephants known to roam the land.
In the 1900s they have estimated the Island of Sri Lanka to have about 10 000 to 15 000 elephants, and due to the loss of habitat, the population has declined rapidly back in the day. One major reason was also the war in the north side. A Buddhist monk offered help to feed this baby elephant who resides in a Buddhist Temple nearby. These elephants are fed with mild and taken care by the donations and funds given by charitable people and even religious people and organizations like this. Enjoy the full footage of this calming and loving scene.
We humbly invite you to join us with a journey full of love and help to our treasured wild elephants in the paradise island of Sri Lanka.
Watch the full video here