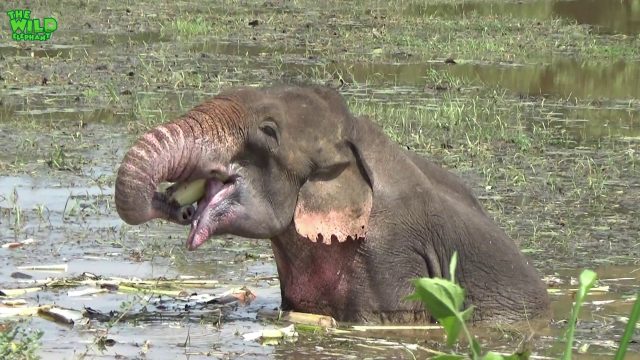 When such giants roam around difficult terrain areas on the island, they meet with so many difficult injuries for them to move on with their lives. One of the worst injuries that can happen to an elephant is having a broken limb. Their entire strength and balance depend on their four legs, and it is essential to have all their four legs in healthy condition to have a typical day to survive in the wild or in urban areas in rare cases as they invade cities and villages all the time.
This situation occurred in Anuradhapura, an area with a very important historical city that is directly linked with the local population of the country and elephants. This giant has a broken leg, and the officers are here to help the elephant thats stuck in the small reservoir. The situation is critical, and the elephant is already in pain, with no ability to get out of water. The initial pain is to provide pain killers via a tranquillizer gun so this elephant will get a chance to walk and get to a corner without thinking about its painful leg.
This is a part of the rescue mission, and it will be carried on for weeks to come. These officers seek a positive outcome, and they are all in for this rescue mission to save this giant from its demise. We are eagerly waiting for updates to share with you as time progress on.
Sri Lanka and Elephants.
In the beautiful island of Sri Lanka, Elephants roam the streets and through village areas freely in many regions of the country. The small island nation is full of elephants that are loved by most of the inhabitants of the island. Most educated in the country are continually fighting corruption, and animal abuse, especially towards the treasures that elephants are to the state as Sri Lankan elephants are known as the largest and the strongest among Asian elephants.
They tried to drag this elephant out of the muddy pit using their own strength, and they couldn't go far. That is when they contacted a villager with a tractor to lend them some help to get this elephant out of this challenging situation.
However, around farming villages where elephants raid crops, many conflicts are happening that have caused casualties to both sides. They have set a lot of fences and electric fences with barriers around many villages and farmlands around national parks and many massive forest reserves. These elephants often run into traps and wells placed along with farms for water supply.