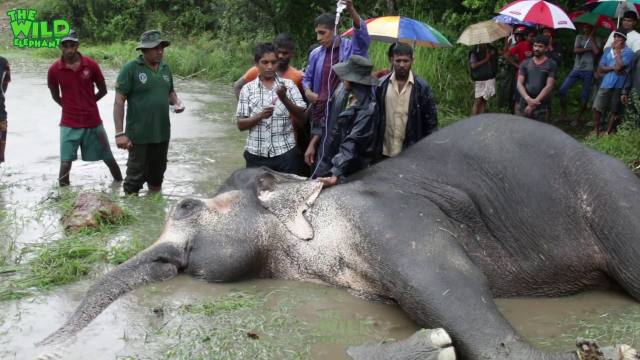 Wounded elephant struggling in the water (part 2)
---
A tractor was used to help these men on the rescue mission. This elephant is very weak. Medical officers had to provide saline at first. They used ropes to tie him up to get him out from the water for further treatments. To add more difficulty to this situation, it is all muddy as well. Men had to enter the water to broaden the chances of success.
Wounded elephant struggling in the water

This elephant is struggling with serious pain. The veterinarians are injecting this elephant with vaccines to get better. Medical officers gave saline to this elephant. Later after that, the elephant was calm while everyone pulled it out of the water
The elephant is so heavy as several men kept pulling it but it barely moved. Although it was raining, the men didn't give up. They continued pulling the elephant while the locals looked on. They attached sticks to the rope to make the process easier.
They enticed it with food and splashed water on parts of the body so at least I'll try and get out onto the surface. It didn't; instead, it kept waddling in the water. Its head was still below the water at this point
About ten of the men pulled the rope attached to the leg of the elephant just to make sure it gets out of the water. The team comprising of the wildlife personnel and the villages kept trying to get the elephant to the ground.
Watch the full video here
Read the 1st part of this article here