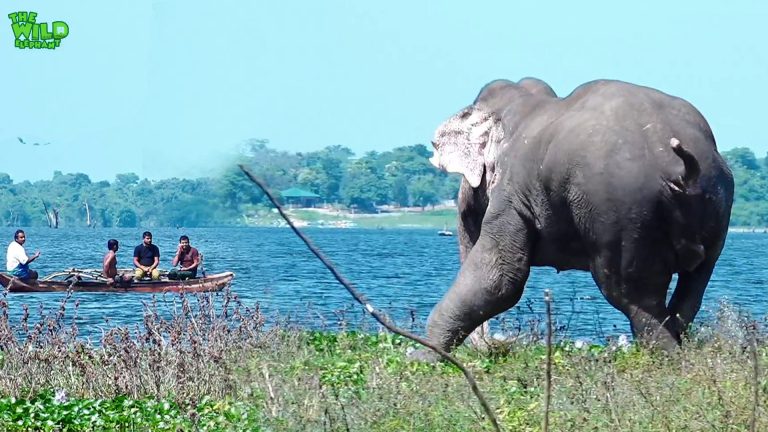 Elephants are humble and kind when we stay away at a safe distance to observe and appreciate them. There are so many beautiful elephants like this on the island of Sri Lanka. These beautiful elephants are also very playful and dangerous at the same time. This is footage we recorded in Minneria for people to get an understanding of nature and the wilderness together with joy some animals get to enjoy in the world.
Minneria National park is a world famous place to see large elephant gatherings around the tank. It is one of the most spectacular scenes you will ever see. Large groups of 200- 300 elephants gather around the reservoir at sometimes. At times of drought, the Minneria reservoir water level reaches the tank bed revealing the bed and allowing the dried out parts to grow grass that becomes the playground for these elephants in large herds.
Officers are here on a routine check to treat this elephant and make sure to vaccinate before they catch him again. This elephant is a giant is very healthy, playful and happy. You can see how happy this elephant is by looking at this video. This environment is provided by these hard working officers who are doing so much to protect these elephants from wrongdoers, and hunters.
More on Elephants:
In the beautiful island of Sri Lanka, Elephants roam the streets and through village areas freely in many regions of the country. The small island nation is full of elephants that are loved by most of the inhabitants of the island. Most educated in the country are continually fighting corruption and animal abuse especially towards the treasures that elephants are to the state as Sri Lankan elephants are known as the largest and the strongest among Asian elephants.
However, around farming villages where elephants raid crops, many conflicts are happening that have caused casualties to both sides. They have set a lot of fences and electric fences with barriers around many villages and farmlands around national parks and many massive forest reserves. These elephants often run into traps and wells placed along with farms for water supply.