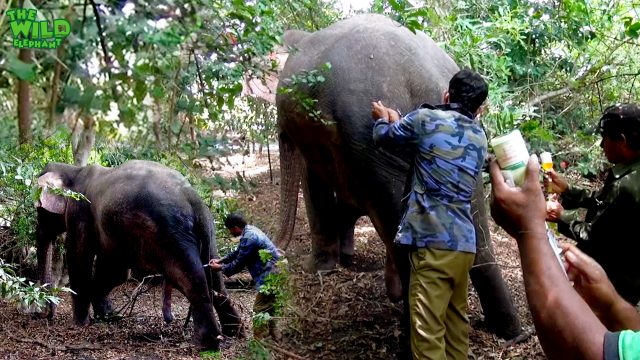 Shot In The Leg: Rescue Mission On A Roll
---
Wildlife rescue team spotted an elephant with a gunshot wound to the leg on their routine check. With a swollen wounded leg, it can barely walk properly and almost limp. This great giant makes sounds of pain and discomfort as it blew its trunk.
Shot In The Leg: Rescue Mission On A Roll-Wildlife rescue team with the vet doctors decided to get closer in order to treat the gunshot wound. These giants are unpredictably wild and dangerous. These wildlife officers are risking their lives for saving these giants.
A team of more than four veterinarians prepared the needed medicine for the treatments while other team members preparing drugs to sedate the elephant. This wounded humble giant is calm after getting the local anesthesia and decided to let the wildlife team treat the wounds.
The veterinarians examine the injured leg to treat his wound immediately and treated the gunshot wounds. The pain seemed to have subsided.
Shot In The Leg: Rescue Mission On A Roll
Some elephants aren't as lucky as this one as some of them die on the spot after being shot. Fortunately, this one was saved and would be set to return back to the wilds once it's fit to go, which is great news for our planet. All thanks to the team of wildlife experts who were patient and efficient while carrying out their duties.
Watch the full video here
Click here to watch more elephant rescue videos
Watch the full video on YouTube: Click here