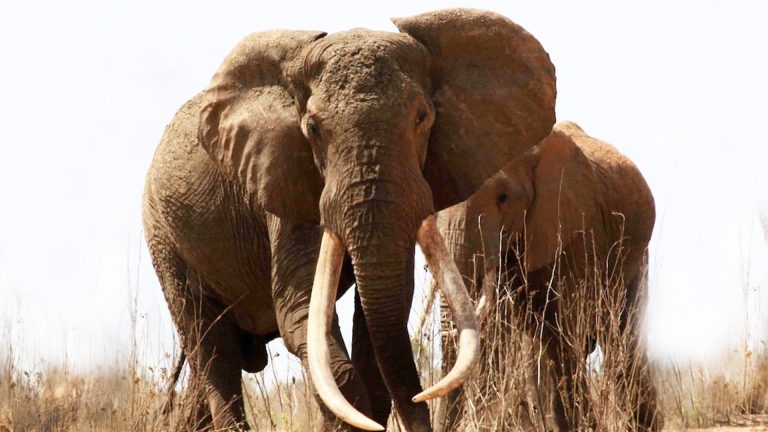 Remembering Satao : One of the largest tuskers that lived
---
The elephant Satao from Tsavo East National Park is known as the largest of few remaining tuskers in Kenya before poachers killed him in 2014. As one of Kenya's most iconic and well-known tuskers with his tuskers almost reaching the ground. His tusks reached over 2.0 meters in length at the age of at least 45 years old.
Remembering Satao : One of the largest tuskers that lived – During June 2014, Richard Moller of the Tsavo Trust found an enormous dead body of an elephant lying in a swamp in the east of its national park. It raised the questions about the identity of this elephant carcass. During their search and routine checkups, they failed to find Satao and declared him dead on June 13, 2014.
Tsavo was believed to be killed by a poison arrow shot by poachers in an attempt to claim his enormous ivory tusks. His tusks were huge they weighed 51.5 KG and the other at 50.5 KG.
The park officials recovered his massive ivory tusks before any of those poachers had the chance to claim them. It was sad for them to hear about this loss that will echo through the world that resulted in China announcing a ban on ivory trade by the end of 2017.
Ivory trade in Asia in the black market resulted in slaughtering over 20 000 African elephants by 2013. It shouldn't be a thing for the future to stand up against ivory/tusks trade, poaching of giant animals in Africa and Asia. It is now or never! The government should impose strict laws that will ensure maximum punishments to those who engage in poaching, hunting-related activities for ivory and tusks. This way we can hope to save our only remaining giants to survive through the generations to come.
Watch the full video here
Watch the full video on YouTube: Click here