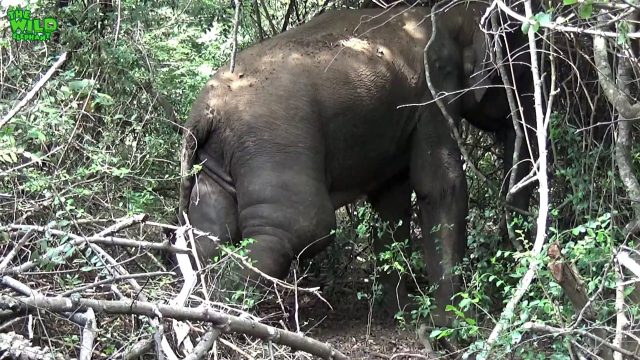 When an elephant is shot many times, they can still go on for several days if those shooters miss the critical points of the body. However, the elephant must be saved before the time runs out as it is a race against the time. These kinds of rescue operations can go on for several weeks as it is extremely difficult to operate and treat with a massive quantity of medical supplies, including vaccinations.
This happened in Anuradhapura near a remote village close the boundaries of a conserved zone kept for wild animals. There are several elephants that roam the area away from their particular herds. Some herd gatherers spotted this elephant making loud noises in pain with no energy to move out of this freest towards a water source. They immediately contacted the wildlife authorities and told them about the situation, and they too rushed in with all the medical supplies to treat this elephant.
Wildlife officers will now have to set up their tents too at night as this rescue operation will go on for several weeks or few months. This elephant will have to be vaccinated, and the wounds will have to be cleansed to stop any infection from spreading. Kind villagers are always ready to help with the vegetables they grow in the area, and they also expect nothing in return. The elephants are loved by all the island of Sri Lanka, except for some evil wrongdoers who commit such crimes to destroy a national treasure.
Watch the full footage here and understand the kind process and commitment given by all shown in the video. Despite having limited resources and help in terms of logistics and technology, they are doing their best with the experiences they have had over the past. We are sure to show more progress reports and footages about this particular elephant in the future.