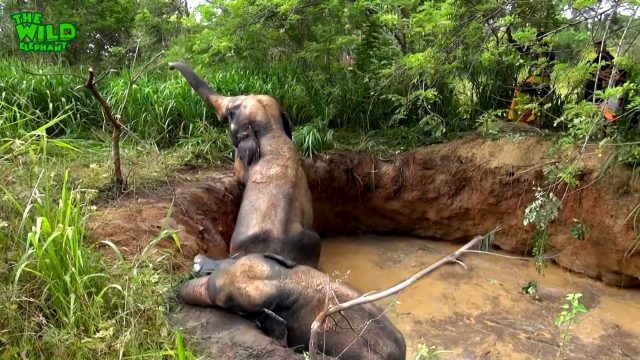 Elephant That Fell Into A Muddy Well A Happy Elephant is worth all the trouble
---
Locals found an elephant fallen into a muddy well beside a farmland. The well was just about as deep at its knees. It kept struggling to get out from the well. However, the wall of the well was very slippery and it was hard for the trapped elephant to find a grip.
Elephant That Fell Into A Muddy Well
It continued trying to find a way up but it kept falling back, thudding in the mud. The elephant tried to grab something to use as leverage. It grabbed the sticks and tree branches around the edge of the well, trying to use them all to no avail. After a while, he got exhausted from trying and started to enjoy the water as swims in the well while trashing its trunk again.
Wildlife rescue team realized that the elephant needs help to find a way out. They decided to dig a gutter and widen the way out to make it easier to climb up the process. The caterpillar entered the scene and cut a path for the elephant, by breaking one end of was all of the wells.
Then the trapped elephant climbed up through that path. Wildlife rescue team fire some shots to make the elephant routed back to the forest. The rescued elephant safely went back into the forest.
Watch the full video here