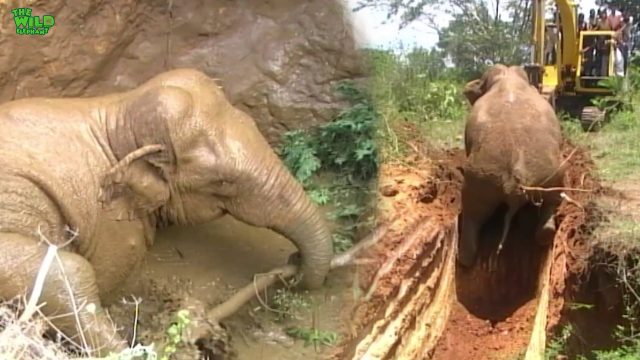 There are countless thousands of ponds and pits all across the island of Sri Lanka. The Island is full of green every corner of the way you would like to travel in, and you will always get to see an elephant in every part of the country.
There are many poor farming villages in the jungle territories close to national parks and conservation zones in the island. Most of these villagers survive by farming and using naturally available water sources. For their misfortune, they also get to deal with a huge amount of elephant conflicts throughout the months and years that have passed by, and it keeps continuing.
Some villagers spotted this elephant making loud noises as they were moving through this area. They immediately contacted the wildlife department to intervene to save this elephant from its naturally sealed faith. This muddy pit is not a human-made well or anything but was previously sued as a water source for some farming activities close by.
Officers had a rough time saving this elephant, so they brought in heavy machinery to support them to dig a path through. The elephant got out safely without being harmed and moved deep into the jungle.
Sri Lanka and Elephants.
In the beautiful island of Sri Lanka, Elephants roam the streets and through village areas freely in many regions of the country. The small island nation is full of elephants that are loved by most of the inhabitants of the island. Most educated in the country are continually fighting corruption and animal abuse especially towards the treasures that elephants are to the state as Sri Lankan elephants are known as the largest and the strongest among Asian elephants.
They tried to drag this elephant out of the muddy pit using their own strength, and they couldn't go far. That is when they contacted a villager with a tractor to lend them some help to get this elephant out of this challenging situation.
However, around farming villages where elephants raid crops, many conflicts are happening that have caused casualties to both sides. They have set a lot of fences and electric fences with barriers around many villages and farmlands around national parks and many massive forest reserves. These elephants often run into traps and wells placed along farms for water supply.