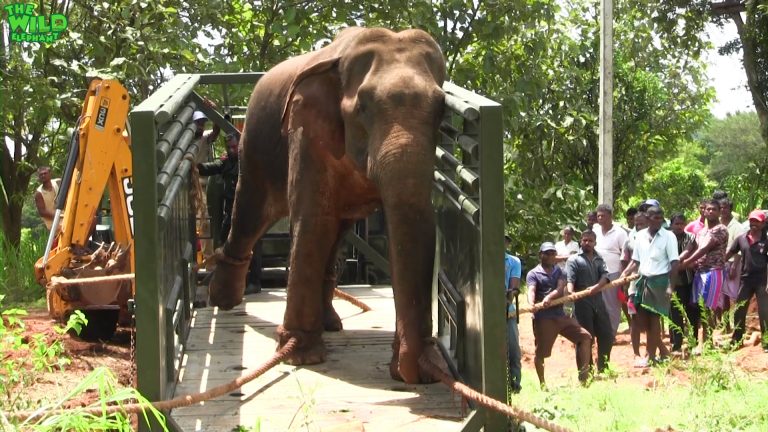 A humble elephant gets a free pass to a national park. (Rescue and Relocate)
---
The Island Paradise, Sri Lanka faced many conflicts over the past and has redeemed it to become a peaceful nation. Currently, one problem remains. The human-elephant conflict that has been going on for several decades with the loss of habitat is the main reason for these giants invasion towards human villages.
This humble giant needs to be taken to a safer place with no human hindrances. Wildlife officers and vets are here to address the issue to take this elephant away towards conservation sites across the island. This elephant must be taken away from the area as some villagers would do anything to save their homes and farmlands from the elephants. Ultimately the elephants getting killed by the traps meant for wild boars and other harvest raiders in the region.
First, they need to dig the area to create a platform for the truck to move in to load the elephant as they have planned. Immediately they started digging the ground to get the level they needed.
They used their basic practices to give anesthetics to this elephant to calm it down. They used that time frame to tie this elephant. No animal will move towards a corner or a trap with the clear vision, so these experts took their time to pull him back inside the truck with his head turned away. The slow but effective method proved its efficiency as it kept all the trouble and panic away.
This elephant will join a new herd of elephant soon in a peaceful and friendly area full of green to roam freely without any threat. Sri Lanka has implemented many methods to protect elephants on the island with many elephant conservation sites such as Pinnawala Elephant Orphanage and Yala national park being some prime examples. Sri Lanka has been doing a great job in many elephant conservation efforts with no poaching allowed in the country.
Sri Lanka and Elephants.
In the beautiful island of Sri Lanka, Elephants roam the streets and through village areas freely in many regions of the country. The small island nation is full of elephants that are loved by most of the inhabitants of the island. Most educated in the country are continually fighting corruption and animal abuse especially towards the treasures that elephants are to the state as Sri Lankan elephants are known as the largest and the strongest among Asian elephants.
However, around farming villages where elephants raid crops, many conflicts are happening that have caused casualties to both sides. They have set a lot of fences and electric fences with barriers around many villages and farmlands around national parks and many massive forest reserves. These elephants often run into traps and wells placed along farms for water supply.
We humbly invite you to join us with a journey full of love and help to our treasured wild elephants in the paradise island of Sri Lanka.
Watch the full video here