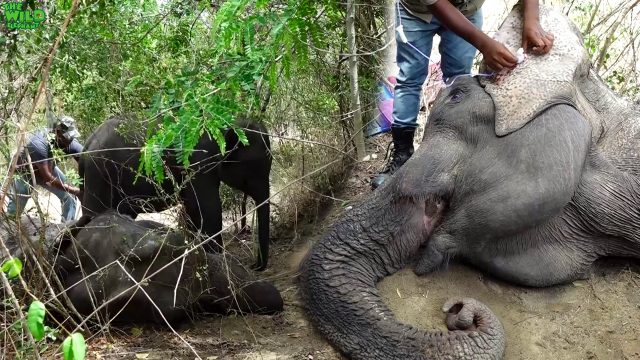 A baby elephant stays by to protect the sick elephant mother
---
It is a sunny day in the rural areas of Sri Lanka where villagers and farmers move towards the jungle areas to gather herbs. A Couple of villagers spotted an elephant baby running around with another giant elephant collapsed on the ground. Villagers knew what they had to do and immediately contacted the wildlife department to take care of this situation.
This is actually a terrible situation as this elephant mother is a victim of a Hakka patas trap. The older elephant is dying, and the officers rushed into providing saline and other medicine to ease its pain in an attempt to get its strength back. Hakka Patas is a mixture of explosives usually hidden in vegetables and blows in the animal's mouth upon consumption.
However, this young elephant is furious over the situation, and it is scared as well. Officers tried to calm this young elephant down in an attempt to keep it away from disturbing the medical treatments given to the elephant mother.
Finally, this baby elephant broke free rampaging through officers and onlookers at the scene. We will share another episode about catching and treating the baby elephant that unfortunately lost its mother.
Sri Lanka and Elephants.
In the beautiful island of Sri Lanka, Elephants roam the streets and through village areas freely in many regions of the country. The small island nation is full of elephants that are loved by most of the inhabitants of the island. Most educated in the country are continually fighting corruption and animal abuse especially towards the treasures that elephants are to the state as Sri Lankan elephants are known as the largest and the strongest among Asian elephants.
However, around farming villages where elephants raid crops, many conflicts are happening that have caused casualties to both sides. They have set a lot of fences and electric fences with barriers around many villages and farmlands around national parks and many massive forest reserves. These elephants often run into traps and wells placed along farms for water supply.
We humbly invite you to join us with a journey full of love and help to our treasured wild elephants in the paradise island of Sri Lanka.
Watch the full video here