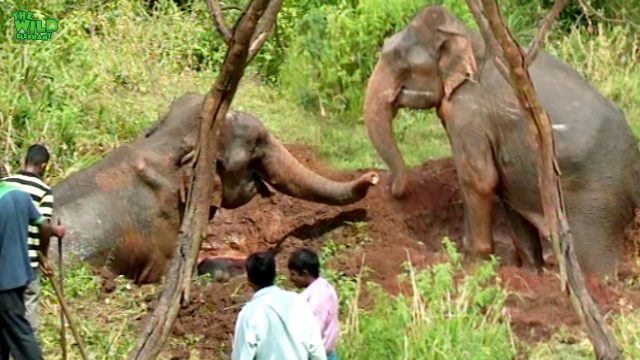 When Animals Meet Humanity: Helping An Elephant in a Mud Pit
---
Another Adventurous Asian Sri Lankan elephant got into some trouble getting out from a mud pit in the jungle close to farmlands. As a giant elephant, it should be hard even for this giant to get out of this pit. As Villagers wonder through these areas looking for herbs and other plants and fruits, they always inform the authorities whenever they spot a giant in distress. Police and villagers have already arrived when we got to the scene, and these villagers had little time to wait for any more help. They took matters to themselves and started digging around the edge to make the slope easier for the giant to climb.
Helping An Elephant in a Mud Pit-The Kind and brave people got closer to dig the very edge of the mud pit while the giant kept on moving towards the edge to climb out from it. We should thank all these brave men who took this opportunity to save this giant being very brave knowing the circumstances if they ever get caught by such a giant elephant. It sure will be the end of a kind life as these wild beasts wouldn't know as they are struggling in a different state of mind.
Ultimately the elephant climbed out from the pit and was successfully escaped from the scene and fled towards the jungle.
Watch the full video here
Watch the full video on YouTube: Click here