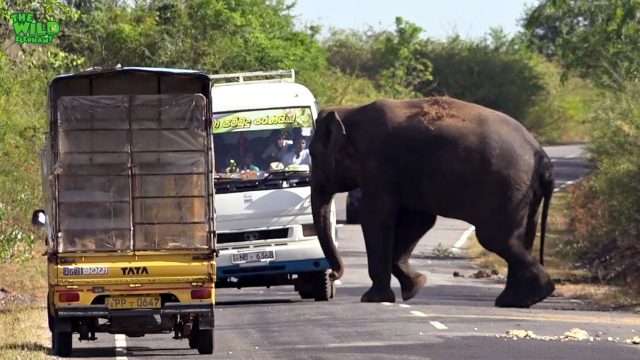 Visiting a Tollbooth Giant Elephant Waiting for Food
---
We visited this giant before, these are known as Tollbooth elephants. Feeding elephants while traveling on pilgrimage. Everyone moving across this road is well aware of, and they know that this is a life-threatening practice people have been continuing.
Visiting a Tollbooth Giant Elephant Waiting for Food-Wildlife officers are always on the lookout, if you get caught, you will be fined heavily. If you are traveling to see this elephant in the location be advised not to leave the vehicle at any time as you will be discarding your only security and protection.
We heard about Toll booth elephant being back at it again eating and eating more from demanding from the people who travel through the road., Obviously the place smells like a fruit salad most of the time, so these elephants know how to come back even after a day.  Watch this video closely on how peaceful and calm they are when offered with food, so they expect nothing more than some food and a full lane to stay and eat.  Enjoy the rest of the footage and let us know your thoughts.
If you ever visit the beautiful island of Sri Lanka, make sure to visit the Kataragama temple to gain blessings from the Kataragama Deviyo. You can also find more elephants in some locations mentioned below.
Watch the full video here