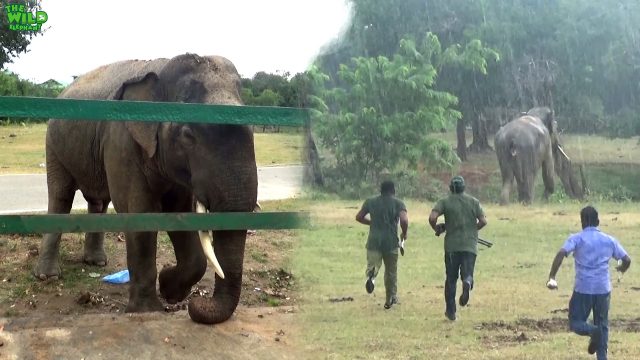 The 5 legs part of the title is demonstrated in the latter part of the footage. This giant lives in the Sithulpawwa Rajamaha Viharaya which is an ancient Buddhist monastery located in Hambantota District, South Eastern Sri Lanka. This place is believed to be 2200 years old and is a place of ancient Buddhist history with paintings and knowledge preserved all around.
This elephant is a rescued elephant who lives here in the Viharaya and visited by the wildlife department for regular check-ups for its wellbeing. The elephant was enjoying his time when visitors showed up with food and to provide enough company during the day time.
This elephant was having fun until the wildlife department showed up; he noticed them at a sudden and knew that he is in trouble. A weird set of events lead to some scenarios you are about to witness and it wasa gloomy evening which turned to a rainy session.
Watch and enjoy this footage about the five-legged elephant that desperately needed a lot of attention from those who visit the monastery. He managed to run away from the scene, but you can get the idea about the drama that follows soon after, enjoy.
Sri Lanka and Elephants.
In the beautiful island of Sri Lanka, Elephants roam the streets and through village areas freely in many regions of the country. The small island nation is full of elephants that are loved by most of the inhabitants of the island. Most educated in the country are continually fighting corruption and animal abuse especially towards the treasures that elephants are to the state as Sri Lankan elephants are known as the largest and the strongest among Asian elephants.
However, around farming villages where elephants raid crops, many conflicts are happening that have caused casualties to both sides. They have set a lot of fences and electric fences with barriers around many villages and farmlands around national parks and many massive forest reserves. These elephants often run into traps and wells placed along farms for water supply.