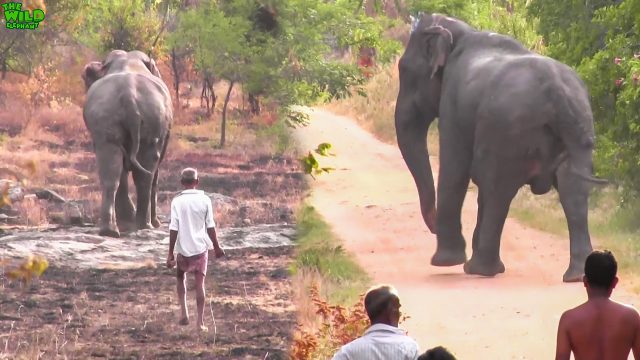 Playful elephant gets chased back to a safe jungle. Village in Chaos!!!
---
This situation occurred near a farm village located closer to jungle areas with a lot of wild animals including wild elephants in the region. A lot of elephants travel and freely roam around the island with no boundaries to stop them most of the time.
This is when this elephant moves into farmland close to a human settlement in the area. Villagers immediately contacted the wildlife department to help them with this situation as this elephant needs to be sent back to the jungle areas where it will not be disturbed or harmed by anyone.
In this video, you can see about the civilians confronting this giant in an attempt to send him back without triggering its rampage mode calmly.
Officers were miles away from arriving at the scene, so these people decided to scare the elephant away. Watch the full footage and see how they managed to confront this elephant
Sri Lanka and Elephants.
In the beautiful island of Sri Lanka, Elephants roam the streets and through village areas freely in many regions of the country. The small island nation is full of elephants that are loved by most of the inhabitants of the island. Most educated in the country are continually fighting corruption and animal abuse especially towards the treasures that elephants are to the state as Sri Lankan elephants are known as the largest and the strongest among Asian elephants.
However, around farming villages where elephants raid crops, many conflicts are happening that have caused casualties to both sides. They have set a lot of fences and electric fences with barriers around many villages and farmlands around national parks and many massive forest reserves. These elephants often run into traps and wells placed along farms for water supply.
We humbly invite you to join us with a journey full of love and help to our treasured wild elephants in the paradise island of Sri Lanka.
Watch the full video here