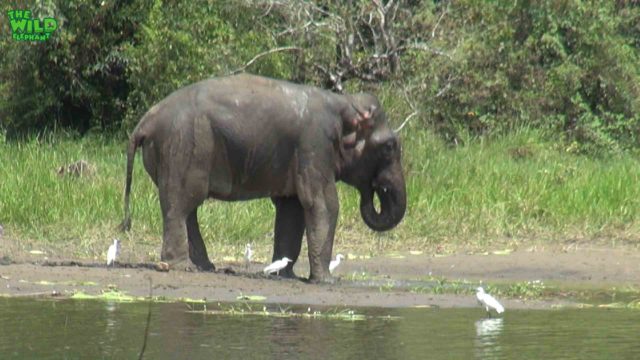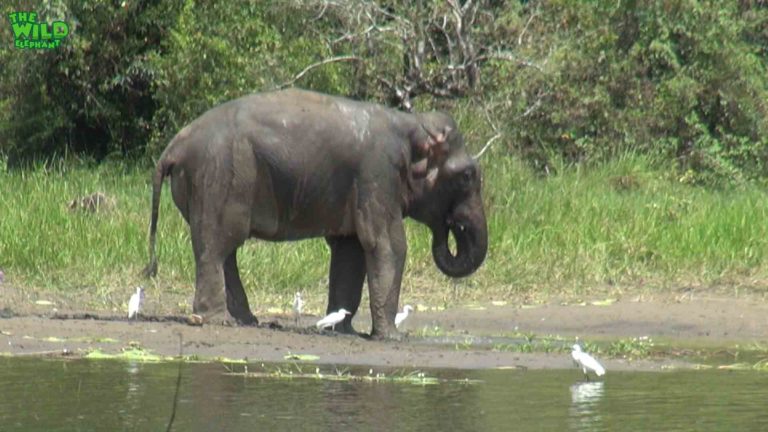 It is very important to keep every one of those elephants from the thousands healthy and free from diseases. It is the duty of all citizens and officials to protect them from both human-made disasters and natural causes of death to these giants.
This elephant is a playful one with a sweet looking personality. It is not that difficult to identify this elephant among a herd of a hundred at any time. This elephant has been seen wandering outside its herd in many instances and has completely managed to escape routine medical missions conducted by the wildlife department of Sri Lanka. It is vital to keep them vaccinated in order to keep them safe from diseases and other deadly causes of death in the wild. The wildlife officers were able to spot and reach this elephant after being reported by villagers close by.
Watch how this elephant was seen enjoying the day off by the river having a bath, eating everything in sight, and keeping itself calm and relaxed while having a pack of cranes around. The motives of these cranes are not clear at this point, no pun intended. Some elephants like these love to spend time alone and away from the herd for certain reasons like being on the musth period etc. Watch this full video and have your time off having your favorite beverage for a calming break.
Drama with Elephants on the island of Sri Lanka: What's going on?
On the beautiful island of Sri Lanka, Elephants roam the streets and through village areas freely in many regions of the country. The small island nation is full of elephants that are loved by most of the inhabitants of the island. Most educated people in the country continually fight corruption and animal abuse. Especially they continue their resolve to show how important the treasures that elephants are to the state as Sri Lankan elephants are known as the largest and the strongest among Asian elephants.
However, around farming villages where elephants raid crops, many conflicts are happening that have caused casualties to both sides. They have set a lot of fences and electric fences with barriers around many villages and farmlands around national parks and many massive forest reserves. These elephants often run into traps and wells placed along with farms for water supply.
We humbly invite you to join us with a journey full of love and help to our treasured wild elephants in the paradise island of Sri Lanka.