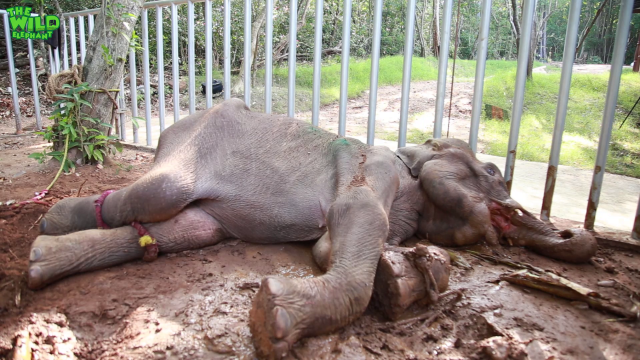 An Elephant Who Ate Hakka Patas: The Reality of Wildlife Food Poisoning
---
Hakka Patas is a mixture of explosives usually hidden in vegetables and blows in the animal's mouth upon consumption. The elephant is moving really slowly, obviously in pains. The Hakka Patas has blown his mouth, and a big wound has surfaced.
An Elephant Who Ate Hakka Patas
There is already an infestation of flies and other insects making his wound a mess while making him very uncomfortable. A wildlife team has arrived on the scene. They take the elephant out of the forest to take care of it. He is lying on its side in a stall writhing in pains. He uses his trunk to soothe himself, while the vets are preparing the medicine.
Wildlife officers round up and administer the medicine, taking time to put him in a comfortable position. They continue to tend to him and give him saline. They then give him some food to eat.
Soon, the elephant is strong enough to stand on his feet. He moves around the stall. The wildlife team sprays him water to wash him off. They then give him more food. The vets clean his mouth, tending to the spot of the explosion. After which, the elephant is given water; taking it into his mouth with his trunk.
The elephant is slowly healing and getting back to his best. He is trying to get out of the stall, by attempting to put his head through the bars. At the end of the video, he seemed to have resigned, as he just continues to move around the stall.
The documentary shows the deadliness of the Haka Patas, and the dangers of its continuous usage on wild animals.
Watch the full video here
Watch the full video on YouTube: Click here